Home planner
3D home planner for designing your home
Would you would like to design a home and would like to have an overview of the new position of the rooms quickly and easily? Home planner software helps and supports you with the implementation of your dreams concerning your home.
The home planner leads you to your goal in just three easy steps: quick, easy, efficient.

Completed 3D living space planning in 3 steps

Design a floor plan for your home
With the help of the 3D home planner wizard you can capture the floor plan of your home quickly following easy instructions.
After you have put in all project data and your floor plan for your home is drawn including all details, the doors and windows have to be added next.

Select the right window and door objects and position them in the wall. The home planner wizard provides a wide range of window and door types.
Of course, you can modify all window and door objects in their dimensions and redefine them.

Design your living space
With the help of 3D home planner software you can now design every single room down to the finest detail. Whether the kitchen, the living room, the bed room or the bathroom, the home planner software offers a comprehensive collection of objects for all fitments of daily life.

As the lighting influences - besides the furniture - the living space very much, lightning elements can be defined in addition to the color and intensity of the light. That way you can put your room into the limelight in an ideal way and not leave anything to chance.
Walls and furniture can be modified in their color and texture.

Visualize and save
Now you can view your home or your living space in a clearly arranged 2D view or in the realistic 3D view. Furthermore, this home planner software offers additional perspectives such as side view or top view.

After you have completed your design and are content with the result, you can save it. Of course, you can always make amendments or modifications.  

You can find additional articles helping you plan your house in our guide for house builders.

cadvilla for the use as 3D home planner software
The cadvilla home planner software helps you planning your home quickly, easily and efficiently.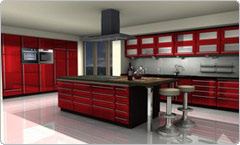 The professional 3D home planner software is your ideal support and help when implementing your living space and it is unbeatable in its price/performance ratio. The home planner software is available as a download or on DVD.

In addition to the standard library, there is a comprehensive collection of objects from different areas such as humans, plants- or auto collection.

Compatible with Windows 7 / Windows 8 / Windows 10


Shown below are a few examples which were created with the cadvilla architecture software.

To enlarge one the following images simply click on it. To close the window which is then opened, simply click on close window
. When an image is enlarged, you can also browse the next
or previous
images using the arrow keys.