Innovative 3D CAD planning software for creating your floor plans
For professional 2D plans and photorealistic 3D visualizations
Cadvilla – the 3D architecture software for drawing & designing your floor plans at professional level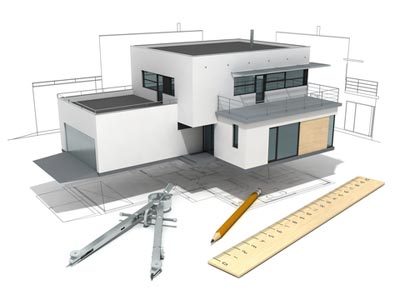 Become your own architect and design your house, apartment, property and adjacent buildings as well as garages and carports on your own. The innovative 3D program from Cadvilla offers you a limitless variety of possibilities without any special previous knowledge and CAD experience. Drawing the floor plans, the interior walls and roof solutions as well as the furnishings and individual room planning is a walk in the park and highly intuitive.
With Cadvilla, you can plan and implement even complex projects with style. At the same time, you benefit from the advantages of using state-of-the-art 3D engines in combination with future-oriented 32/64-bit software programming. You draw the floor plans primarily in 2D while the three-dimensional photorealistic 3D model is automatically created in the background in real time.
The 3D House Planner combines highest usability with professional functions and the advantage of high-quality 3D visualization. Walk through your designed rooms or whole houses in a 3D presentation and get a first realistic impression of the ambiance of your new home.
The latest version of cadvilla is version 12.0.4.0. This version is available since 20 March 2023. All stated prices apply for the latest version of cadvilla.
Professional and affordable 3D CAD software for everyone
Since the launch of cadvilla in 2009, our focus has been on developing professional architecture software for demanding customers that is easy, intuitive to use and affordable for everyone.
The main features of the program include e.g.:
Over
20 years of experience

in architecture software
We know which features a high-quality CAD software needs to provide for professional planning of houses, apartments and other properties. No matter if you are looking for a simple room planner program, an apartment planner software or a 3D software for house planning, our well-engineered and – for many years – successfully sold architecture program cadvilla combines the "Know How" from more than 20 years in one big complete package!
Draw your floor plan according to German norms and standards
Requiring architecture or graphics studies. From the floor plan according to German standards to the integration of windows and doors, stair elements and connections, step by step, you work your way towards furnishing and detailing of your house planning. Lay the desired floor in CAD by texturing the desired surfaces, set up virtually and use the integrated furnishing libraries.
You can change individual steps at any time, display the 2D and 3D presentation of the project in several parallel views on the screen, save content and share it with your friends and involved professionals. With our innovative 3D house planner, you save a lot of money and need an architect only for the examination of the statics and for the control/final acceptance of your drafts. Cadvilla is perfectly suited for planning a new building or a conversion, for a renovation of existing properties and for a redesign/new furnishing of your houses and apartments.
Extensive functions for planning your project
Cadvilla's architecture software includes many outstanding functions that support you in the intuitive creation of professional floor plans. Below, we would like to introduce you to some of the features that are particularly appreciated by our customers. Get inspired!
Other functions and highlights of the individual versions
The basic functions of cadvilla are the same in all versions. You will be surprised how much software you can get for relatively little money.
The versions of cadvilla are based on each other. Here, you will find an overview of the features of all individual versions in a tabular presentation.
The prices of cadvilla are low while the offered scope of performance is high. See for yourself. You will be enthusiastic about all the amazing possibilities.
Cadvilla can be used for
many applications
Cadvilla's strengths lie in the creation of sophisticated 2D floor plans (e.g. for a building application), in the calculation of photorealistic images directly from the 3D visualization and in a real-time walk through the 3D presentation of the project. No matter whether it is a new building, conversion or renovation – cadvilla can therefore be used in many ways and for various application areas.
CAD software for architecture in general
Today the use of modern CAD software in the area of house planning is a matter of course and therefore essential.
But what does the word CAD software actually mean?
The term CAD software literally means "computer aided design". This means that it is a special program to create building plans and construction plans.
The CAD software is particularly popular among architects, house builders and private people who enjoy doing home improvement. They all use CAD software to create and design building plans in a quick and easy way. With the help of the right CAD software, anyone can quickly become the house builder of their own dream living space.
Modern CAD software for architectural purposes is fast and easy to use. It supports each step in the planning process by means of a project wizard, allows various perspectives such as 3D view or 2D top view, includes many tools such as wall and ceiling types or window and door types, provides different furnishing objects and ensures the opportunity to export planning files for other CAD programs. Professional CAD software also focuses on the demands of its clients and therefore offers for example tutorials in the form of training videos for new CAD users.
In addition to all important basic functions, a professional CAD program also includes many other practical functions specific to the industry in order to achieve your goal in just a few steps. The use of professional CAD software does not imply any limitations and can be used at maximum performance.
The catalog of requirements for modern CAD software is comprehensive.  However, modern and professional CAD software for architecture includes all necessary basic functions and also provides many other functions.
Professional 3D CAD software programs often include even next to a special
home-planner own 3D room planner or easy to use room planner modules for quick planning.
The architecture program cadvilla meets all the requirements of professional CAD software and provides information through various guide books and support channels. cadvilla is a modern and professional CAD software with a decent price/performance ratio. Cadvilla supports you in an efficient and fast way of fulfilling your dream of owning your house or home.