Four consecutive versions for different requirements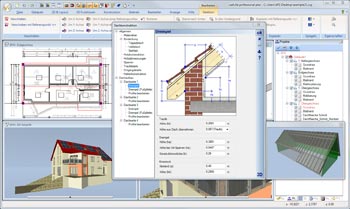 Regardless of whether you are a newcomer, self-builder, craftsman, architect or estate agent – cadvilla's house planner software covers all requirements of a modern and intuitive CAD software.
The 3D software allows you to completely design your home, from foundation to roof. Our parallel workflow in different views is especially helpful to get the best results.
Professional users will find our cadvilla professional plus version best, due to its extensive additional functions and expansions for complex and extensive projects.
The features of cadvilla versions build upon each other
We distinguish between the BASIC versions for simple projects and the PROFESSIONAL products for more demanding projects. The more demanding the project evolves, the more functions are required.
Included functions, version comparison
BASIC

– versions
for simple projects

PROFESSIONAL

-versions
for more demanding projects

cadvilla professional plus
100%
The user interface
In our architectural software cadvilla, which was first introduced in 2009, it is possible to choose between the Toolbar  and Ribbon user interfaces. In the past (until about 2005) toolbars were the default user interface in Windows applications. Since then, the modern ribbon user interface was introduced by Microsoft and has become the standard in modern Windows programs.

Here you can see the ribbon menu with the main ribbon groups. The last picture shows our alternative user interface with toolbars.
General information about cadvilla
Cadvilla contains all the basic functions to design buildings, even from the smallest version.
These basic functions include, among others
Walls, ceilings, windows and doors
Upper and lower beams , columns, chimneys
Wall and ceiling cut-outs, wall slots
Stairs
Roof constructions, dormers and skylights
and much more
Many general features of cadvilla are integrated even from the smallest version.
The general features of cadvilla include:
Create floor plans with associated 2D plans and 3D views
Suitable for a new-builts or renovation
Support of valid standards according to building regulations
Multiple floors and multiple buildings are supported in one project
Parallel work flow in multiple 2D and 3D views
Versions comparison – cadvilla basic
The main additional features of cadvilla basic (and all higher versions)
(Note: click on each feature to learn more)
Legend for the following table:

,
– Feature is included in this version

,
– Feature is not included in this version
All cadvilla versions automatically include all available languages. Your preferred language can be selected during installation or any time later within the software.
The user interface of cadvilla can can show the following languages:
German, English, French, Italian, Dutch, Polish, Russian, Slovak, Spanish, Turkish, Hungaria
Manuals as PDF files are available in German, English or French.
The cadvilla installation files automatically contain a 32-bit and 64-bit package.
Which version is best for your Windows system is automatically determined during installation time.
Cadvilla is a Windows application and will not run on MAC operating systems.
By default, cadvilla contains comprehensive catalogs with 3D objects, textures, and materials.
More than 1000 2D symbols for different topics
more than 2000 high quality 3D objects
more than 5500 high quality textures
more than 1000 high quality materials
Each material can contain different textures combined with any color in adjustable intensities. The reflective part of a material can be changed in color, intensity and size of the reflection. This results in almost infinite combinations for texturing 3D elements. The photo realistic representation of the 3D elements is massively increased by realistic-looking textures and reflections.
The 3D object catalog can be extended by yourself or with ready-made object collections. Image files with self-created textures or scans can be added to the texture catalog with just a few clicks.
Photo-realistic representation of your 3D building and even more realistic presentation can be reached by inserting a photo of the plot as background picture. That allows you to see how your home looks in its real environment.
Raytracing functions in 3D views (photorealistic representation with light / shadow calculation) are included in all cadvilla versions.
In order to make the visualisation even more photorealistic, additional ambient shadows can be activated and used during raytracing. Ambient shadows are shadows that appear darker in depth the further the shadow is away from the sunlight. (example: although the entrance to a cave is in the shadow, the further you enter the cave, the darker it becomes.)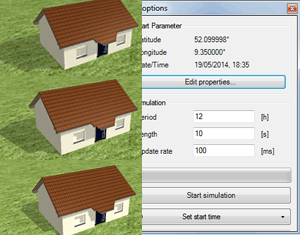 The simulation of the sun light and resulting shadows starts after determining the start and end time as well as the geographical position of your project.
In your active 3D view, you can then see the shadows moving like a video (for example, for planning photovoltaic systems).
The screenshot shows the dialog box and 3 intermediate steps of such a simulation in the time between 9:00 and 11:30 am.
You can use this function to perfectly check the planning of solar panels.
The simulation helps you to position the solar panels correctly and to identify if parts of the installation are not shaded over the day.
The shadow simulation is included in all packages of the 3D house planner software cadvilla.
The virtual tour through your 3D scene and included buildings gives you a first impression of your property. Use the mouse to control the viewing direction – use the cursor keys to control the movement.
The virtual tour function is included in all packages of the house planning software cadvilla.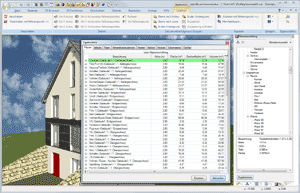 The area calculation and bill of quantities function lists all elements used in your planning such as rooms, walls, windows, doors, columns, ceilings, chimneys, roofs in a tree structure.
If you select a single element in the tree structure, you automatically get its properties such as dimensions, areas, volumes, formulas, and so on. In addition, the element is highlighted in the planning so that you also have an optical feedback which element is currently inspected.
You can export a report of all surfaces and dimensions of your project in various formats (Excel, PDF, RTF).
So you can easily create a list of all walls including their properties for further cost estimation or to get a quote, for example.
The cadvilla tutorials are an extensive collection of training videos to get you started and to get quick results. Our training videos lead you step by step through  the input of a complete building.
The tutorials are installed directly on your computer, but require an internet connection to watch the videos.
In addition to the tutorials, cadvilla offers a comprehensive support section answering many typical questions in detail.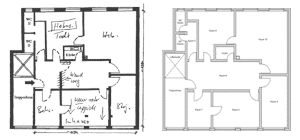 If you already own scanned floor plans of your building in one of our supported image formats (JPG, BMP, PNG and GIF), you can use them in cadvilla.
Firstly, the image file is first inserted as a background picture in a 2D view and scaled exactly. Then you draw your cadvilla building elements on it like a blueprint.
Printed floor plans can be scanned or photographed and used in the same way.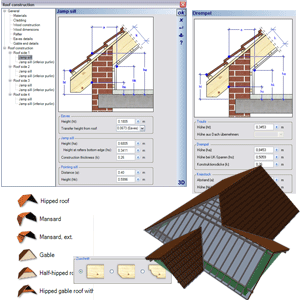 Basically, our roofs support the following basic types: hipped, half-hipped, mansard, extended mansard, gables, hipped with hole  and sloping roofs.
In addition, you can set details such as cladding, wood construction, rafters, verge and eaves details in the properties dialog.
cadvilla automatically creates a proposal for the entire roof, including cladding, wood construction, rafters, verge and eaves details, which you can then refine.
For each roof side separately you can use an individual profile type as mentioned above. Every change is automatically recalculated and shown in our 3D preview of the roof dialog.
If required, you can make detailed settings for the pointing sill, jamp sill, eaves heights, etc. for each roof side in detail.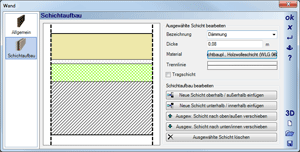 Constructive elements such as walls, ceilings and floors can consist of several layers.
You can create your own layer structure on the dialog page in our wall, ceilings and floor dialogs and adjust their settings in detail. Each layer can have its own logical name, its own thickness and the building material with its 2D and 3D representation. For further use, you can permanently save your defined layer structures in the catalog and easily assign them to new elements at any time.
The appearance of the walls in floor plans also depends on the properties of the layer structure, determined by fill patterns, layer thicknesses, hatchings, colors, pen sizes and line types.
The input of solar panels on roofs allows you to quickly design a complete solar installation with just a few clicks.
While you start the planning tool, first select the appropriate PV panel from the catalog and insert some basic parameters, such as the offset between the panels. These values ​​are automatically taken into account when placing the entire solar installation.
Then move the mouse cursor over the desired roof side and automatically get a preview of the calculated system. With just one more click, the solar panels are inserted in your planning.
In addition, you can roughly calculate the feed-in tariff of the solar installation in our analysis dialog. And you receive a bill of quantities of the current installation with the needed modules and mounting materials, based on neutral assumptions. The item lists can be exported and printed as an Excel, PDF or RTF file.
If you enter the up to date prices for solar panels and mounting equipment, you also get a rough cost estimation.
2D section and elevation views
0%
Extended 2D drawing functions
0%
Extended roof functions
0%
Simple area calculation and bill of quantities
90%
Professional Analysis, Areas,…
10%
Individual 3D Constructions (Carports, Extensions, etc.)
10%
Versions comparison – cadvilla basic

plus
The main additional features of cadvilla basic plus (and all higher versions)
(Note: click on each feature to learn more)
Legend for the following table:

,
– Feature is included in this version

,
– Feature is not included in this version
2D section views are not only required in building applications, they are also helpful during your construction process.
Examples of using 2D section views during construction:
You need e.g. for the wall marked in red on the right, a section view to adapt this wall exactly to the stair.
Identify and change ridge or eaves heights
Treasuring the total height of the building from floor to ridge requires a section view as shown on the right. You can adjust it directly by selecting the roof and moving it by the required offset.
2D section views are important elements in planning a building and presenting it in all its details. An additional option is the hidden line calculation which removes invisible elements the 2D representation.
2D elevation views (e.g. views from the north, east, south and west views) are required in building applications, but also useful for construction needs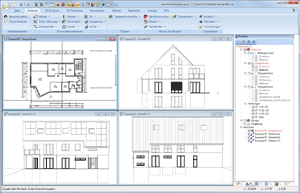 Example of the using elevation views during construction:
Windows reaching over more than one floor
If a window extends over several floors, you may need manual openings in walls (wall cut-outs), which you can insert only in an elevation view.
Elevation views are important elements for building applications and to design your building.
An automatic hidden line calculation removes invisible lines from the representation.
The calculation of hidden lines can be activated in our view properties dialog.
The easiest way to create an isometric view is from an existing 3D view. Position this view accordingly and create an isometric views from it.
Isometric views still represent the building model and behave like elevation views. You can also use our visibilities and optionally influence the representation by activating the hidden line calculation.
The screenshot shows an isometric view with hidden line calculation, created from the 3D view on the left.
With just a single mouse click you can convert a standard cadvilla 2D view, ie a floor plan, sections and elevation views, into so-called 2D graphics view. This can be useful and necessary to change the automatic 2D drawing in detail.
In this new view type, all previously visible content is drawn as 2D graphic primitives, ie lines, polygons etc. These 2D elements and the 2D graphics view have no connection to the current project.
The advantage of this view is that now all 2D content can be edited individually and deleted if necessary. You can edit certain parts of your drawing in detail and then save them or delete unwanted lines before printing.
In 2D graphics views, you can work normally using our basic 2D drawing functions , lines, circles, ellipses, dimensions, text, additional images (as shown in our example).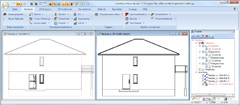 The example on the right was created with the floor plan software cadvilla from an elevation view (on the left) as a vector graphic (on the right) and then edited. As you can see, the floor dividing lines have been removed and changes have been made to the door and balcony.
For the quick creation of a building plan, editing a 2D view in detail is a reasonable option.
The content of an active 3D view can be exported in many 3D file formats for further usage. The export writes, what is currently visible in your 3D view, depending on the visibility settings. So you can export the entire planning but also only parts such as roofs, garages, etc. for use in other software solutions. Or you can extend your own cadvilla 3D object catalogs by exporting a 3D scene as a cadvilla object.
Alternatively you can export only selected parts of your planning if required. More settings are available in our export dialog.
Cadvilla currently supports the export of 3D data in the following formats:
cadvilla 3D Format
3DS Object File (*.3ds)
3D-DXF Object file (*.dxf)
SketchUp (*.skp)
Collada (*.dae)
Wavefront Object file (*.obj)
Autodesk FBX (*.fbx)
Luxology Modo (*.lxo)
Polygon File format (*.ply)
Stereolithography (*.stl)
VRML 1.0/2.0 (*.wrl, *.wrl97, *.vrml)
Caligari trueSpace Object file (*.cob, *.scn)
Amapi Object file (*.a3d)
Lightwave Object file (*.lw, *.lwo, *.lwm, *.lwb)
A typical use case for the 3D export: For example, you can use the 3D room planner (module included in all cadvilla versions) to quickly design a room plan in 3D, and then export this scene to another 3D program for further customization.
2D section and elevation views
100%
Extended 2D drawing functions
20%
Extended roof functions
0%
Simple area calculation and bill of quantities
90%
Professional Analysis, Areas,…
10%
Individual 3D Constructions (Carports, Extensions, etc.)
30%
Versions comparison – cadvilla professional
The main additional features of cadvilla professional (and all higher versions)
(Note: click on each feature to learn more)
Legend for the following table:

,
– Feature is included in this version

,
– Feature is not included in this version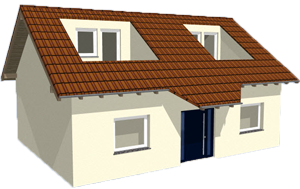 With these extended function you can insert polygonal and rectangular roof openings and extensions.
Roof openings are needed, for example, for roof terraces – Roof extensions are additional areas in roof sides, e.g. to cover the entrance area.
Openings and extensions can also be combined to create individual shapes (see screenshot).
With the help of roof openings, you can design nearly any roof shape.
Currently, cadvilla supports the import of the following 3D formats:
Google SketchUp (*.skp)
3DS Object file (*.3ds)
Collada (*.dae)
Wavefront Object file (*.obj)
Autodesk FBX (*.fbx)
Luxology Modo (*.lxo)
Polygon file format (*.ply)
Stereolithography (*.stl)
VRML 1.0/2.0 (*.wrl, *.wrl97, *.vrml)
DirectX (*.x)
Caligari trueSpace Object file (*.cob, *.scn)
3D-DXF Object file (*.dxf)
Amapi Object file (*.a3d)
Lightwave Object file (*.lw, *.lwo, *.lwm, *.lwb)
Additional packages with objects for ArCon (file name *.aco) can easily be converted and integrated into the cadvilla object catalog.
Especially the 3D file formats Google Sketchup or Collada allow access to a variety of current 3D objects. For example, much of the IKEA products are available in the Google SketchUp file format. On web pages such as 3D Warehouse, you can search for the desired objects via search functions, download them and then import them into cadvilla. The use of the web pages is subject to the license terms of 3D Warehouse
With the new 3D import capabilities and an internet connection, you have access to millions of 3D objects.
Typical use case for a 3D import: For example, you get a kitchen plan from your kitchen planner designed with an external 3D kitchen planner software and then you want to import it to cadvilla.
PS. Of course, with cadvilla 3D kitchen planning is also possible.
This function allows you to load in existing projects (*.acp) based on ArCon [planTEK] or ArCon open, and to further process them in cadvilla. Additionally, ArCon projects can be taken over up to version 6.30.
Ideally, the complete project with all walls, ceilings, windows, doors are taken over in 3D and can then be edited, modified and amended with cadvilla.
You can import ArCon objects in * .aco format into cadvilla and continue to use them. This also applies to special additional CDs with ArCon objects (file extension * .aco).
The conversion to cadvilla can be done for a single object or for an entire directory structure with 3D objects.
A professional 3D house planner software needs individual construction capabilities and also the possibility to create your own 3D objects such as a special roofing of your terrace, a modern carport or the exact representation of the rainpipes. All these details of your project can be realized in cadvilla with 3D constructions.
With the help of 3D constructions, you can also extend the 3D standard catalogs with your own 3D objects.
By combining 3D constructions – such as 3D solids, extrude solids, rotate and sweep solids – you can create new 3D elements and use them in your project.
In the shown example you can see some elements made with 3D constructions.
Typical use cases for 3D constructions are e.g. Carports, terrace roofing, balconies, trusses, garden elements, flowerpots and much more.
The name implies that subtraction solids are intended for subtracting from other solids using Boolean operations (intersection algorithms). 'Cube' and 'Plane' are provided as standard subtraction solids, but it is also possible to use other subtraction solids. Other subtraction solids are the result of converting existing 3D constructions into subtraction solids.
Subtraction solids are not intended for use in modeling. For modeling, other mechanisms such as Boolean operations are provided.
An example using the 'Cube' subtraction solid in a building:
In the example shown the cube was subtracted from all layers of the building. In the view on the left the cube is still visible, while on the right it is set as invisible in the visibilities dialog. The cut-out representation, however, has no effect on the 2D representation in the top view.
An example using the 'Plane' subtraction solid with a building:
In the example shown all constructions in front of the plane were subtracted from all layers of the building. The direction of input of the subtraction solid can be defined over the context menu.
An example using a user-defined subtraction solid:
In this example the subtraction solid is equivalent to the excavated part of the terrain. Apart from the 3D display, the result is also shown in views/sectional views and top views. Additional examples for the use of subtraction solids are access ramps, roof terraces and many more.
You can set the scope of the subtraction in the properties dialog for a subtraction solid. Here you can specify which types of construction element and which layers are affected by the subtraction solid.
Rotation solids are created by a 2D contour revolving around a specified rotation axis. Surfaces are generated along the contour to form the solid.
This is illustrated by the following examples, which all show, from left to right, the 2D contour, and the result after rotation in a sectional view, and the resulting solid.
The rotation axis is defined by the input of two points.
You can generate different 3D objects from one 2D contour by segmenting and due to the rotation axis.
Our example shows a plant pot – on the left the contour, in the middle after rotation with 24 segments, and on the right after rotation with 4 segments.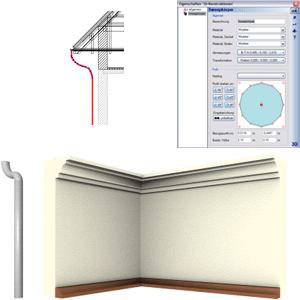 Sweep solids result from 'sweeping' a contour along a predefined path. The 2D contour can be freely defined or selected from over 120 predefined contours and profiles.
The path can be defined in one of three ways.
Polyline: A polyline produces a sweep solid which is 'open' at the start and end, and which can be used to create, for example, baseboards in a room which cannot form a closed solid since they start and end on either side of a door frame.
Polygon: A polygon produces a closed solid in which the end points meet and which can be used to create, for example, ceiling moldings at the junction of wall and ceiling.
Contour/path: This function produces a solid which follows a contour or path made up of 2D elements. Several individual 2D elements must first be combined to form a contour. This option is useful for producing, for example, a path consisting of lines and arcs, as would be required to create a drainpipe.
Typical applications for sweep solids are, as shown in our example, downpipes, baseboards and ceiling moldings.
Extrusion solids are created from a closed 2D contour, for which an additional height is defined.
There are two ways to define a 2D contour.
By manually putting in a closed polygon.
By using an existing contour (e.g. of a 3D object or one from the 2D symbol catalog).
Using manual input, a 2D contour can be defined in the top view, in a sectional view or in the 3D view.
Extrusion solids are true solids with which Boolean operations can be performed, and that can be merged with other solids.
Cadvilla contains various possibilities to automatically calculate areas and to export them as reports,  e.g. for the floor area calculation.
The reports can be exported in one of the following file formats:
HTML
XLS (Microsoft Excel)
RTF (Rich Text Format, for example, for further editing in Microsoft Word)
PDF (PDF is a standard format for documents and can be viewed with free programs such as Acrobat Reader.
Cadvilla includes several functions for calculating areas according to different standards, e.g. according different types of living area detection.
In addition to the pure numeric information, you can also display the areas in 2D and 3D. This will immediately show you if all areas have been identified correctly.
In addition to the living space, you can also analyze other areas and  volumes:
floor area
living area
Net floor area < 1,5 m
Net floor area > 1,5 m
Net floor area, summary
Room volume
Net volume
Floor volume
Floor area
For some areas the clear room height is important, e.g. in living areas, the optical "control surfaces" in 3D are naturally displayed in the appropriate height.
You can also save the colored representation as a picture and use it as an attachment to your area calculation reports.
A plan layout is needed to position multiple floor plans, section and elevation views on one plan.
The parts of this plan, automatically created from your existing 2D views, work directly on the basis of your current project, what means they are not separated from the building model and always reflect your building.
They are automatically updated whenever you make changes to the design of your project.
Differences between project and plan are therefore impossible.
Create a Plan Layout in three steps:
Firstly create all required 2D views in your project, (e.g., 2D top views, north, east, west, and south elevations, section views). These views are prepared with visibility options and other settings.
Afterwards, create a new plan layout view with the plug-in Plan Layout and simply place your existing 2D views on it with some few mouse clicks.
If necessary, complete the plan with 2D symbols, other drawing elements or images. Pictures could be photos or 3D visualizations from cadvilla.
Plan Layout can be so easy!
2D DXF or 2D DWG files are imported as a unit, a so cadvilla 2D symbol into an existing 2D view.
During the import you get a preview, in which you define the contents to be imported.
In this import dialog you can scale the DXF / DWG file appropriately and specify some display options like line colors etc.
DXF / DWG are popular formats for the exchange of 2D drawings, e.g. import your architects drawing, but also for importing 2D elements into your cadvilla 2D-Symbol catalog.
Once the DXF / DWG file is imported, it can then be split into single elements and edited, if necessary.
Another advantage is that you can use the DXF file in cadvilla as input help to create your 3D building elements on it, using the 2D drawing as a blueprint.
2D section and elevation views
100%
Extended 2D drawing functions
80%
Extended roof functions
60%
Simple area calculation and bill of quantities
100%
Professional Analysis, Areas,…
60%
Individual 3D Constructions (Carports, etc.)
100%
Versions comparison – cadvilla professional

plus
Legend for the following table:

,
– Feature is included in this version

,
– Feature is not included in this version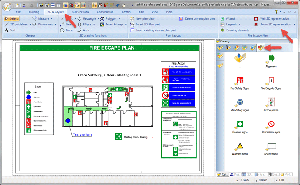 With the Fire Escape Plan extension, the drawing of Fire Escape Plans as well as the creation of Fire Plans is very easy and quickly realized.
The plug-in supports you in the creation Fire Escape Plans according to ISO 23601 (standard for safety signs and for Fire Escape Plan), EN ISO 7010 (European standard for safety signs) and DIN 4844-2 as well as for Fire Brigade Plans in accordance with DIN 14095 (requirements for Fire-brigade plans for building arrangements) and DIN 14034-6 (graphic symbols for fire-brigade plans).
For cadvilla versions that do not automatically contain this module, you can purchase the Fire Escape Plan functions as an add-on module. The section Guides you will find more detailed information on how to use the Fire Escape Plan Plugin.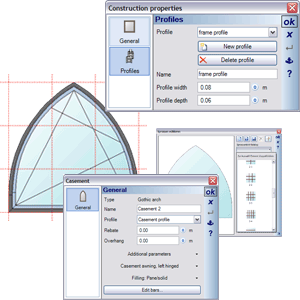 If required, you can use the Window Construction PlugIn to create your own individual windows for further planning. This is especially necessary for special window types which are not already part of your standard catalogs. You can also load and modify existing windows from the catalog.
Read more about the Window Construction Plugin
Merging roofs is like modeling a roof landscape from component parts. You just create individual roofs in the known basic shapes and position the component parts to each other.
Afterwards you can merge the roofs with two mouse clicks. The recalculation of the complex timber construction as well as the entire roof shape is performed automatically.
Of course, the previous individual roofs can still be worked on and can be moved, flipped, edited or also be pulled out of the entire roof landscape anytime.
Therefore, merging roof shapes allows you to plan and display nearly every roof in detail.
In addition to many other points, a roof design accurate in every detail makes sense for e.g. the exact positioning of solar elements.
The extended timber construction contains purlin roofs with coupling purlins, aligned purlins and purlins between trusses.
The following parameters can be set in the roof dialogue for coupling purlins / hall construction:
Purlin types (coupling purlins, aligned, between trusses)
Dimensions of the purlins (width and height)
Axis offset and number of sections
Distance between the first and last purlin to the edge of the roof
Coupling purlins are mainly used in hall constructions.
The extended timber construction for roofs also allows editing rafters and purlins.
Additional rafters can be added by 2 arbitrary points or by 2 points in one plane. When inserting rafters manually, you first pick the roof side to get the correct pitch and then and then insert the new rafter position.
All timber construction elements can be automatically intersected at one or two planes. The reference planes are determined manually.
Our screenshot shows the upper element is cut at 2 planes, the lower is intersected at the top in only one plane.
Flat roof solar installations are those in which the modules are mounted elevated. For such a construction, you first create an area in which the solar panels can be placed. Within these areas, you can still create cut-outs. Cut-outs are areas in which panels can not be inserted.
Once this has been prepared, you insert the entire solar installtion with two mouse clicks by first selecting the starting point of the module rows with your mouse.
Finally, you can adjust row spacing, rotate the installation or change the starting point for the entire installation if necessary.
Planning walls in timber frame construction can be done in 3 different ways.
Before entering wall elements, you define the properties for timber frame construction in our wall property dialog. If a wall is then inserted in the floor plan, it is automatically filled with the timber construction.
If you have already existing walls, you can simply select it and specify in our properties dialog that this wall should be filled with a timber frame construction.
All walls of an existing project can be filled in one step with our Timber construction wizard.
The standard timber construction can be extended with individual beams any time later.
During the 2D DXF / DWG export you can first determine which parts of your cadvilla planning should be exported. In the shown example, the 2D view and the floor plan – first floor.
The selection of the layers happens by selecting the respective layer in the layer window.
In addition, you can specify in which AutoCAD format the file should be exported.
All popular formats from AutoCAD R09 to AutoCAD 2018 are supported.
In the Options area, you can specify RGB color values, set the hatching scale, and define the line type.
Facade areas can be calculated automatically and saved as a report.
This list shows all façade surfaces of the building as a picture and a table per page with information about length and width as well as the gross and net areas (total area minus openings).
The report can be saved as PDF, EXCEL, HTML or RTF file.
Roof areas can be calculated automatically for all roofs of the project. As a result you get a document with pictures of the single roofs as well as tables with the total values ​​for the roof area, ridge length, eaves length, etc. All relevant values of a roof are listed.
The report can be saved as PDF, EXCEL, HTML or RTF file.
The item list for all the window in your current project contains a picture of all windows with dimensions.
The corresponding table shows the external dimensions, the materials used (with comments ) and the total number of the respective window type.
The report can be saved as PDF, EXCEL, HTML or RTF file.
2D section and elevation views
100%
Extended 2D drawing functions
100%
Extended roof functions
100%
Simple area calculation and bill of quantities
100%
Professional Analysis, Areas,…
100%
Individual 3D Constructions (Carports, Extensions, etc.)
100%