The entry-level version to discover the world of 3D architecture software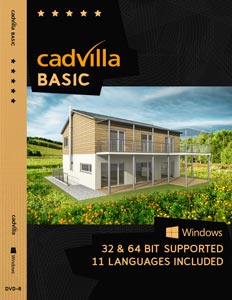 Delivered via download (approx. 1.5 GB)
BACKUP DVD – optionally available
The purchase process and delivery of the product is handled by our contractual partner cleverbridge AG based in Cologne, Germany.

General information about Cadvilla
Cadvilla is an architecture software that combines proven CAD technologies with innovative functions. You benefit from a high degree of user-friendliness as you do not need to have any special CAD knowledge and quickly become familiar with the software. The architecture software presents floor plans in an understandable way and can be used in addition to the functions for drawing floor plans also as 3D apartment planner or 3D house planner. In addition to the 2D floor plan, you automatically receive a 3D visualization of your apartment or house and can get a first impression of how your property may look like. In addition, cadvilla can also be used for complete furnishing planning and visualization in 3D.
Whether you are a private builder, real estate agent or architect, with Cadvilla, you benefit from an enhanced new generation design software. We recommend our "Cadvilla basic" version for implementing simple projects.
Cadvilla basic – high user-friendliness
Cadvilla basic is the basic version of the architecture software and is upward compatible to all versions of the same version number, i.e. cadvilla basic plus, cadvilla professional and cadvilla professional plus. Work you have already started in a lower version can easily be transferred to a higher version after an upgrade. Internationally established companies and private users who are not native Germans benefit from the multilingual feature of our software.
Cadvilla basic has extensive basic functions
Even our smallest version "cadvilla basic" is equipped with many basic functions. It is suitable for simple projects and contains the most important basic functions of the software series. The floor plans are captured in the 2D plan top view and can be realized using various construction aids, including grids, auxiliary lines and numerical input options. The architecture software automatically creates a 3D model in the background which can be viewed from different sides, based on the captured floor plan. In the 3D view, it is possible to view the property from inside and outside. Numerous 3D elements such as doors, windows, stairs and roof constructions are available for a detailed presentation.
Innovative functions for perfect planning
With Cadvilla basic, extensive calculations for a photorealistic presentation can be carried out. The so-called raytracing contributes to this: The software calculates light and shadow and provides a realistic view of the real construction project. The detailed presentation of the walls, ceilings, windows and doors as well as the roof with roof windows and gutters provides a perfect realistic 3D view. Even surfaces can be displayed in detail using the included surface planner. The functions for terrain modeling allow a realistic presentation of the environment.
If you store a photo of your building plot in the 3D view and position the planned 3D project in it accordingly, you can get a first glance of your future home already in the planning phase.
Auxiliary lines, position texts and 2D graphic drawing functions round off the extensive program functions of Cadvilla basic.
Overview of the range of functions
A detailed overview of the functions of this version
More information about the 3D architecture software cadvilla basic