cadvilla professional plus
Our best 3D architecture software with maximum range of functions

Download approx. 1,5 GB
cadvilla professional plus
€219,00 *

(The recommended list price is €425,00)


All prices are incl. the statutory VAT.


Full version with unlimited usage time


Latest version of the architecture program


Software can be used on a maximum of two end devices
The purchase process and delivery of the product is handled by our contractual partner cleverbridge AG based in Cologne, Germany.

General information on cadvilla professional plus
Cadvilla professional plus is our best product and at the same time offers maximum performance – it is the high-end version of our innovative 3D architecture software. Even the most demanding projects in the area of single-family and multi-family housing can be implemented without any problems. The modern operating concept and the self-explanatory operation associated with it not only enable quick recording of floor plans but also easy learning of the program. Therefore, cadvilla is not only the first choice for CAD professionals but also for beginners. Whether you are an architect, real estate agent, craftsman or private builder – with cadvilla professional plus, your high expectations of CAD software become reality.
In the version cadvilla professional plus, all CAD features
of the versions "basic", "basic plus" and "professional" are included.
Highlights from cadvilla professional plus
Besides the pure creation of 2D floor plans, the software is also excellently suited for many other areas, whether it is CAD planning of apartments, houses or buildings with multiple residential units. With cadvilla professional plus, for example, you can also do the following:
Create building plans with extensive details
Draw plans for electrical planning
Create drawings for water and sanitary planning
Design the complete planning of the furnishing and of the outdoor area
Design your carport or your garage to the very last detail
and much more
In short – cadvilla professional plus is the 3D house planner of choice when it comes to planning everything around house building.
The automatic 3D visualization of your property provides you with an optimal overview of your building project and enables you to recognize technical relations already in the planning phase. Extensive evaluations in graphically prepared lists round off the product features and make cadvilla professional plus one of the best architecture programs on the market with an outstanding price-performance ratio.
Many additional tools, advanced export functions, outputs and lists
If you are an architect or private builder and would like to work professionally on your projects, this software is definitely the right choice for you. With cadvilla professional plus, you can benefit from the optimum interaction of functions, from the new possibilities and from the extensive additional services compared to the lower versions.
Expand the window catalog contained in cadvilla by own individual window types and adapt them precisely to your window manufacturer with just a few clicks.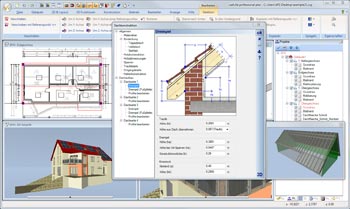 Even the most complex roof landscapes become a walk in the park through the automatic merging of individual roofs. Roofs and roof landscapes consisting of different single roofs, dormers and porch roofs are merged with only a few clicks to a complete roof. The necessary cutting of the individual roof shapes and the wooden constructions are carried out fully automatically. A subsequent rework of the wooden construction is of course possible at any time. Created woods in the roof truss can be deleted, moved or supplemented with additional beams, rafters and purlins and cut into new pieces.
For data exchange with other CAD programs you have several possibilities to choose from. In addition to exporting the entire 3D model (for example as a 3DS, Sketchup, OBJ or Collada file), the standardized 2D-DXF / 2D-DWG export interface is one of the most popular interfaces for data exchange between professional CAD systems. Of course, it is also fully supported. This saves time and money as time-consuming new floor plans by architects and professionals are no longer necessary.
The calculation and sensible placement of photovoltaic systems on sloping roofs is complex enough. But the placement of PV modules on flat roofs requires a lot more software know-how. Based on complex algorithms, the arrangement of the PV modules is suggested and can then be adopted or modified manually.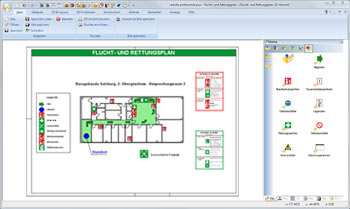 The creation of escape and rescue plans as well as the creation of fire brigade plans according to DIN becomes a walk in a park with the already included extension Escape and Rescue Route Planner . Rooms and walls in the created floor plan can be colored comfortably with just one mouse click, the escape and rescue route symbols can be positioned via drag and drop (drag from the catalogue and position accordingly) and the legend with the used symbols is created automatically.
Automatically generate detailed graphically prepared position lists of the windows used in the project with dimensions and the display of the defined pan/tilt definition for your window supplier. Requesting an offer from various window manufacturers is a walk in the park with these window lists.
The preparation of the individual planned roofs in lists is another important feature. You can print all roofs of your building with a graphical presentation and a table with the total values for the roof area, ridge length, arris length, gutter length, verge length and eaves length with one click or save them as a PDF file. This gives you the option of requesting detailed quotations for your roof or using the list as a basis for calculating the roof cost.
A list of façade areas with a graphic presentation of the individual façade sides, the corresponding lengths and widths, and the total areas (with and without openings) round off the extensive list output in cadvilla professional plus. This compilation gives a precise overview of the total area of the façade and can be used as a basis for the facade calculation or the painter.
Windows software with high compatibility
Cadvilla professional plus is the high-end version of the architecture software Cadvilla. It requires one of the following operating systems: Windows 7 / 10 / 11. It can be installed right after the download of a file which is approx. 1.5 GB. Optionally, you can order a backup DVD. If you have already started projects in Cadvilla basic, basic plus or professional, you can easily transfer them to the Cadvilla professional plus version. This gives you the opportunity to add many features from the area of house planning and apartment planning to your projects.
Available languages
International companies benefit from eleven integrated language versions. In addition to English, you can also run the program in other international languages and have it operated by employees of different nationalities. The languages can be switched via the settings in cadvilla.
Overview of the range of functions
A detailed overview of the functions of this version
More information on the 3D architecture software cadvilla professional plus
Some outstanding functions of the 3D architecture software cadvilla professional plus
Besides all functions of cadvilla basic, cadvilla basic plus and cadvilla professional, cadvilla professional plus has additional outstanding functions such as e.g.:
Professional tools for planning escape and rescue routes
Walls can also be entered in wood-frame construction
Designing individual window types for general use in the 3D program
Designing individual doors for general use in 3D CAD software
Merging roof landscapes from individual roofs with the corresponding wooden construction
Processing and supplementing wooden constructions of roofs
Comfortable functions for planning photovoltaic systems for flat roofs and saddle roofs in 3D
Quick determination of complete facade surfaces and preparation in clear lists
Automatic calculation of roof areas and cutting edges and output in lists
List output of all windows used in the project with graphical presentation
2D-DXF and 2D-DWG export for professional data exchange with architects
Newer generation of Intel® (≥ Generation 7) / AMD® processor (launched in 2017)
Working memory at least 12 GB RAM
Newer generation of graphic card (launched in 2015)

Minimum resolution of 1280×1024 pixels
(recommended: Graphics card with dedicated graphic memory)

Mouse or touchpad
at least 15 GB free hard disk space
Windows 7 / 10 / 11
FULL supported
(64 Bit)
MAC Operating systems are
NOT supported
(e.g. MAC OS 9, MAC OS X)
virtual environments
NOT supported
(e.g. Windows parallels)
The following languages are integrated in all cadvilla versions, and can be switched via the settings.
German, English, French, Italian, Dutch, Polish, Russian, Slovakian, Spanish, Turkish, Hungarian
Upgrade from cadvilla professional plus to the latest version
The current version of cadvilla professional plus includes many new features compared to older versions. Here, you get a detailed overview of the new functions, enhancements and prices.