Migration from ArCon to cadvilla
You have an outdated software program from ArCon or another house designer program based on ArCon and you are considering the following:
An upgrade from your existing older ArCon version to the current version of ArCon [plantek] or
A migration to another modern CAD program based on a more powerful 3D core
Advantages – upgrade from an older ArCon version to ArCon [planTEK]
The user interface is the same as the one of the older ArCon version – You will not have to relearn a new operation.
ArCon [planTEK] runs without any problems under the current Windows operating systems WIN7 and WIN8 (32 bit and 64 bit).
ArCon[ planTEK] can completely take over all projects from your existing older ArCon version (up to ArCon +6). Therefore it is not required to redraw the floor plan.
In case you have already purchased object collections (*.ACO, *.O2C) for your old ArCon version, you can keep on using them with the latest ArCon [planTEK] version.
ArCon [planTEK] includes the professional tools of ArCon+ (plus version of ArCon) and has no limitations.
ArCon [planTEK] runs without software protection, Hardlock, Dongle and others, and it does NOT require ANY activation.
ArCon [planTEK] does not have any requirements of your hardware – as long as the computer is not older than 10 years and runs at least under Windows XP, ArCon[planTEK] will run on it without any problems
Further information about products for ArCon
Advantages – upgrade from ArCon to cadvilla
Complex blending of multiple roofs, parallel working in different views or creating appealing 3D objects is not possible with ArCon or only to a very limited extend.
This provided the initial impetus for a completely new development of professional software for designing and visualizing floor plans, houses, homes and fitments. The new product is called cadvilla.
Modern development environment Microsoft.NET framework
Since the 1990s programming languages have changed, operating systems have been established and also hardware has become many times more powerful than it was 15 years ago. Outdated programming languages such as PASCAL are more and more poorly supported by modern operating systems.
cadvilla is based on the latest development environments from Microsoft and was completely programmed under Microsoft.NET framework. Programs based on Microsoft.NET are easily compatible with all new Windows operating systems.
User interface – Working with tool bars
Cadvilla supports menu navigation via tool bars – similar to the one at ArCon – to the full extent.
With Cadvilla you can navigate in your familiar menu environment with similar processes like with ArCon. For example, click you open a push button with the right mouse (e.g. external walls) and then a dialog box opens where you can perform different settings. Therefore, a fast relearning from ArCon to cadvilla is possible. For further information, click on the following video.

Parallel working in different views
While working with the 3D house planner oftentimes parallel work is required. For example, it is standard with cadvilla to start a wall or an elongated roof in the 2D top view while finishing it in the sectional view.
Parallel display of different views
You can monitor the progress of your project in cadvilla via several, simultaneously displayed views (2D view, sectional views, 3D views). Different views of your project can be displayed next to each other and thus facilitate parallel working in different views.
As an example, there are two pillars and the corresponding landing selected (displayed in red) in the adjacent image. Due to a parallel display of all views you will always have a full overview of the project. Every modification is transferred to all the other views at the same time.
Create your own 3D constructions and 3D objects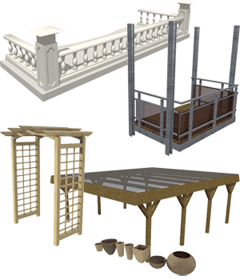 For the exact visualization of your dream house you will still need a carport, a specific balcony or the exact display of the downpipes? In Cadvilla there are 3D constructions for this area.
Besides the extension of the constructural possibilities, 3D constructions facilitate also an extension of the 3D catalog through owned objects.
Due to the combination of 3D solids – consisting of base solids, extrusion solids, rotational solids and solids that follow a contour – new objects can be generated due to blending features (Boolsche operations) in order to use them in your project.
In the adjacent example you will find objects that were created with the component 3D construction in cadvilla.
Additional information of the extensive features of 3D construction for creating 3D solids
Use the layer technique by using layers
The house plan software cadvilla works with layers. The layer technique facilitates combining areas that belong together on their own layers in order to show and hide them separately later.
The most important advantages of the layer technique in cadvilla are:
The structure of the floors can be displayed more clearly by using layers.
Information belonging together can be filed on owned layers (e.g. different furnishing proposals, distinction between old buildings/existing buildings and new building, renovation)
Due to showing and hiding of the arranged layers, different results and drawings can be created.
In cadvilla every layer can be allocated to a height/level.
Merge individual roofs (only cadvilla professional plus)
Due to the use of new technologies, the requirements of roofs are today becoming more and more extensive. The requirements of house builders become higher and higher as well. Regarding the used CAD software this requires a powerful tool for creating complex roof landscapes.
First, the roofs are positioned and put in as individual roofs – for example a normal gable end roof, monopitch roof or hipped end roof.
Afterwards, the roofs are merged by a few mouse clicks. The recalculation of the complex timber construction as well as the entire roof shape is performed automatically. Therefore the user can design and display nearly every roof shape in the details.
Ex post editing, moving, flipping, deleting and modifying of (already merged) individual roofs is possible at all times.
Taking over of ArCon projects and ArCon object collections
Existing floor plans from ArCon can be taken over with cadvilla professional and cadvilla professional plus under the following conditions.
Projects were created with ArCon [planTEK]
Projects were created with an older ArCon version (up to ArCon +6.21)
Projects were created with another house designer version based on ArCon [planTEK]
Projects were created with an offshoot of ArCon based on an older version of ArCon (up to ArCon +6.21)
Object collections (e.g. furnishings) with the file ending *.ACO can be converted and taken over automatically with cadvilla professional and cadvilla professional plus.
Design an overall plan for the building application
The plan for the building application typically consists of an overall plan (e.g. DINA1) including all floors (basement floor, ground floor, upper floor, attic floor…), views (North, East, South and West view), sectional views, detailed display and the header. cadvilla includes an owned module for the plan layout. Ex post modifications that are performed on the project (e.g. moving a wall or changing the wall thickness) are automatically moved over to the plan layout)
Light and shadow rendering (ray tracing) with ambient occlusion
Ambient occlusion enhances every 3D display. This is about shadows that become darker as they become deeper.
In the image on the right a picture was rendered with ambient occlusion, the other picture with just regular shadows. Click on the image to find out the difference in appearance.
In order to get a realistic 3D display, ambient occlusion is a standard scope in cadvilla.
The main differences between ArCon planTEK and cadvilla
A tabular overview with the most important differences between ArCon planTEK, cadvilla professional and cadvilla professional plus can be found under the following link:
cadvilla professional plus is a professional CAD software for designing and visualizing your dream house
Design your dream house with our professional software cadvilla professional plus. The CAD program cadvilla professional is the ideal software for designing your house on your own and for quickly creating a professional 3D visualization with ambient occlusion.
cadvilla is a CAD program based on a powerful and efficient 3D core. An up-to-date hardware is the assumed precondition for the use of cadvilla.
cadvilla professional plus is available online as a download or can be purchased on DVD.
Compatible with Windows 7 / 10 / 11
We have the right software solution for you! The prices range between € 39,95 – € 219,00 incl. VAT. *