House plan software & 3D CAD House planner
Requirements of a house planning software
The time has finally come – the dream of owning your own house can become a reality. Now that you have finally reached your goal and can start with the implementation, it is necessary to create a plan first.
Should you start immediately or hire an architect? Or should you create a plan on your own using appropriate software?
The advantages of working on a building plan on your own are obvious.
Time-saving – you save time to give the ideas in words to an architect or designer
Cost-saving – because you save the costs for a designer, at least partially.
You must handle a number of details during the planning process and you will come across many open questions which can be solved immediately.
Using house plan software you can modify, save, extend and change your drafts at anytime without making an appointment with an architect. Only when you are satisfied with the design, should you begin your search for a professional (such as an architect or structural engineer), talk to him and hire him.
Finding the right house plan software
So far, so good – the next step is the purchase of software. Google finds various offers for house plan software. Now you have to find the right one, and one
that is quick and easy to use
that provides many possibilities such as:

display of different wall layers for external and internal walls and the ceilings
a wide range of various window and door types
design of different – also complex – roof shapes and dormers
and many more

that can construct in different perspectives (2D top view, 2D views and sectional views, 3D views)
that provides a library with 3D furnishing objects
that provides possibilities for exporting the projects to hand it over to the architect or structural
engineer in case they work with another program.
There are many free of charge CAD programs for house planning on the market. You may easily be tempted to download a free of charge architecture software. But you will quickly notice that free of charge does not necessarily mean a high scope of performance. One free of charge house plan software covers for example the wall designs very well, however, it does not consider complete roofs, the other free of charge house plan software includes an extensive library for furnishing but there are limitations in the design of the floor plan with regard to the number of walls, doors and floors that have to be planned. It's time-consuming and you will only be successful in the rarest case to find a free of charge house plan software that meets all your requirements.
Considering this, you should decide on professional house plan software. After all, you will build your dream house only once and you are advised not to try and save money in the wrong place in the beginning.
There are various requirements of professional house plan software. Once you have purchased the professional 3D house plan software program you can start with your creative work right away. Draw the floor plan first. Afterwards you can gain an overview of the room situation. Various objects of everyday's fitments help you find a realistic relation to the rooms.
Parallel to the input of the house, you can see the created project in different views. After completion you should definitely select a realistic 3D view and "walk through" the house in 3D. In the end you should save the completed design.
Quick, easy, user-friendly and, if possible, cost-effective – that's what a house plan software should provide.
Requirements of a 3D CAD house planner
If you would like to plan your dream house yourself using CAD software, you will quickly face questions regarding which requirements the 3D house planner should meet.
Therefore we created a checklist for you including the most important points that should support you with your further decision of selecting the right house planner software.
Mastering the basic functions
Obviously, the house planner should master all of the basic functions.
The most important functions are:
Input of different wall types (external walls, internal walls …)
Input of doors and input of freely definable windows
This mainly affects the external dimensions and the shape of windows, the definition of the frame profile and sash profile and the free arrangement of the sash bars.
Input of ceiling and wall recesses in any shapes
Input of wall slots
Capture of pillars, chimneys, binding beams and suspender beams
Input of ceiling panels
Input of stairs (straight stairs, helical stairs and stairs with landings)
Input of different roof shapes (monopitch roof, hipped end roof, gable end roof…) and roofing.
Input of dormers in different shapes
Capture of the roof windows and solar elements
Input of banisters and furnishing (via predefined furnishing objects)
Texturing of objects (for example allocating walls to a wall texture or a plaster texture)
No limitations
The 3D house planner should not have any limitations with regards to the number of floors that can be generated, the amount of used walls, windows, doors and roofs etc.
Parallel working in different views
Sometimes it is necessary to work in parallel with different views with the 3D house planner. This means you will begin for example with a wall in a 2D top view and finish with a sectional view.
Parallel display of different views
Monitor the progress of your projects simultaneously in different views. A modern 3D house planner can display different views of projects (2D top views, sectional views, 3D views) next to each other, and therefore facilitates parallel work in different views. Due to the parallel display of all views, you will always have a full overview of the project.
Layer technique – use of layers
The layer technique of modern 3D house planners is used to combine areas that belong together on their own layers in order to be able to display and hide them separately afterwards. The most important advantages of the use of layers are:
Combining information in groups (on their own layers)
Due to showing and hiding different layers, different drawings can be created.
Every layer can be occupied with properties (e.g. different heights/levels).
For example, the layer technique can be used to display old buildings and new buildings separately from each other to display different furnishing proposals.
The layer technique can also be used to display the projects in a structured way.
The layer for the external walls, the layer of the internal walls, the layer of the windows, the doors and roofs etc. and the entire project can be viewed and exported in different views (2D/3D) and with different, activated layers.
Plan layout for building application
The plan for the building application typically consists of an overall plan (e.g. DINA1) with all individual floors, views and sectional views. Modern 3D house planners often provide features of a plan layout. Even if ex post modifications on the project will be performed, the house planning software should take them automatically to the plan layout.
Creating own 3D structural designs and objects
When designing your dream house you should be able to create your own 3D structural designs (e.g. a carport) and fitments (e.g. tiled stove with curved shapes). In most cases two-dimensional forms alone are not sufficient.
Ray tracing (light and shadow rendering) with ambient occlusions
Ambient occlusions are shadows that become darker as they become deeper. For example, a cave is located in the shade but the deeper you walk into the cave, the darker the shadows become. In order to achieve a 3D display close to reality, the 3D house planner should master ambient occlusions. For more details click on this image.
Possibilities to export into other CAD programs (optional)
When the floor planning of your dream house is finally completed, the next steps will be your conversations with the executing professionals. This could be for example an architect, a structural engineer, an electrician and a plumber. In case the professional owns different CAD software than the planning software that you used, the question regarding taking over of the floor planning will occur soon.
For this purpose, professional 3D house planner software provides 3D and 2D interfaces so that the floor planning can be exported accordingly. Common 2D interfaces for delivery of a 2D planning with various top views of floors, cuts and side views are the 2D DWG format (AutoCAD) and the 2D DXF format.
Common interface formats for the 3D delivery are OBJ (Wavefront), 3D DXF and 3DS format.
Modern development environment Microsoft.NET framework
Modern 3D house planners are programmed under modern development environments such as Microsoft.NET framework. Programs that are based on outdated programming languages such as BASIC or PASCAL can only cope with WIN7 / WIN8 / WIN10 to a certain extent, and they are really difficult to maintain due to the fast pace of the modern Windows operating systems.
You can find additional information helping you plan your house in our guideline for house builders.
cadvilla is a professional software for house planning with an ideal price/performance ratio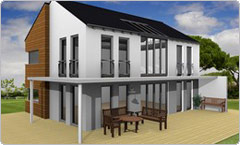 cadvilla provides all advantages of professional 3D house plan software with a decent price/performance ratio. The support and the various tips that are offered by the software are very useful and help you reaching your final goal, your dream house, quickly and efficiently.
Compatible with Windows 7 / 10 / 11