High-quality 3D architecture software with enhanced functions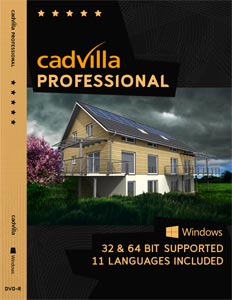 Delivered via download (approx. 1.5 GB)
BACKUP DVD – optionally available
The purchase process and delivery of the product is handled by our contractual partner cleverbridge AG based in Cologne, Germany.

General information about cadvilla professional
Cadvilla professional is the enhanced version of the architecture software Cadvilla. The program is available both for 3D house planning as well as for 3D apartment planning and offers a wide range of visualization at the highest level. Whether you are an architect, real estate agent or private builder, cadvilla is an innovative new generation 3D CAD architecture planning software which was developed to ensure ease-of-use based on the state-of-the-art development environments. The simple operating concept makes the software intuitive to use and is easy to learn even for beginners.
Cadvilla professional includes all CAD capabilities of the basic versions
cadvilla basic and cadvilla basic plus and several other outstanding highlights.
Highlights of cadvilla professional
The 3D designs are among the most important highlights of cadvilla professional and offer unbeatable advantages. Whether it is detailed modeling of additional 3D elements such as a carport, a down pipe, the creation of rotational bodies, or the individual adaptation of existing 3D objects – with the extensive tool collection of 3D designs, you have possibly access to the best tool for the free design and modeling of additional 3D elements.
Using the 3D import function, you can not only create floor plans and visualize them in 3D, but also have the possibility to enhance the interior and exterior areas with modern 3D furniture from the Internet. For the import of 3D objects, high-quality 3D formats such as SketchUp or Collada are supported in addition to the standard formats such as 3D DXF, 3D DWG, 3DS or Lightwave.
Especially the SketchUp file format provides a huge selection of 3D models from renowned manufacturers which can be downloaded for free in the 3D warehouse.
However, the architecture software cadvilla professional also offers numerous other advantages compared to the lower basic versions.
The automatic determination of the room areas can be evaluated according to DIN277 or according to the living space ordination (WoFlV) in specific lists and can be presented graphically also in 3D and be stored accordingly.
To prepare a large plan for a building application in which all floors, side views, sections and 3D presentations should be included, a separate module for a plan layout is integrated in the software.
And the numerous setting options in the 3D visualization allow the calculation of a photorealistic presentation of your project. This is because architecture software that has been professionally programmed must also have modern visualization capabilities.
Transferring projects from third-party programs
Existing plans from other CAD programs can be transferred in simple steps by supporting the 2D DXF/2D DWG exchange format. The entire floor plan is stored on a separate foil for tracing. By drawing the individual wall, window or door lines of the 2D plan with the wall, window and door functions of cadvilla, you can create a 3D model of your project in a short time.
Projects from ArCon created with ArCon planTEK, ArCon open or with another older ArCon version before 2002 can be transferred directly into the 3D model of cadvilla professional with all walls, ceilings, windows, doors and roofs, and can immediately edited, modified and supplemented.
Available in over 10 languages
Cadvilla professional contains several languages in addition to English, which can be switched in the software settings. This way, you can e.g. involve foreign specialists in larger construction projects.
Compatibility with other cadvilla versions
The cadvilla professional version convinces with its high user-friendliness and extensive CAD functions. Cadvilla professional is the enhanced version of the architecture software cadvilla, ideally suited for demanding use and is fully upward compatible. If you decide for Cadvilla professional and would like to upgrade to cadvilla professional plus later, the projects are very simple and fully transferable to cadvilla professional plus.
Overview of the range of functions
A detailed overview of the functions of this version
More information about the 3D architecture software cadvilla professional
Some of the outstanding functions of the 3D architecture software cadvilla professional
Besides all functions of cadvilla basic und cadvilla basic plus cadvilla professional has additional outstanding functions such as e.g.:
Import of 3D models from other CAD programs (e.g. from Sketchup, 3DS, ArCon, Collada, …)
Opening of ArCon projects (up to version 6.30) and immediate further editing
Creation of complex and elaborate 3D models (e.g. carports, complex balconies, …)
Extended functions for creating porch roofs and openings of roofs
Generation of 3D objects with a shape following a line (e.g. down pipes, plinths, …)
Creation of rotating 3D structures (e.g. vases, flower troughs, …)
Creation of 3D bodies from any 2D shapes with an additional height
Use of subtraction solids
Lists for area analysis according to DIN 277 and WoFlV
Graphical area analysis according to DIN277 and WoFlV
Plan layout to display all floors, sections and side views on a plan
Import of 2D-DXF and 2D-DWG files from external programs for fast creation of 3D floor plans
Newer generation of Intel® (≥ Generation 6) / AMD® processor (launched in 2015)
Working memory at least 8 GB RAM
Newer generation of graphic card (launched in 2015)

Minimum resolution of 1280×1024 pixels
(recommended: Graphics card with dedicated graphic memory)

Mouse or touchpad
at least 15 GB free hard disk space
Microsoft
Windows
Windows 7 / 10 / 11
FULL supported
(64 Bit)
Apple
MAC OS
MAC Operating systems are
NOT supported
(e.g. MAC OS 9, MAC OS X)
Virtual
Environments
virtual environments
NOT supported
(e.g. Windows parallels)
The following languages are integrated in all cadvilla versions, and can be switched via the settings.
German, English, French, Italian, Dutch, Polish, Russian, Slovakian, Spanish, Turkish, Hungarian
Upgrade of cadvilla professional to the latest version
The latest version of cadvilla professional includes many new features compared to the older versions. Here, you get a detailed overview of the new functions, enhancements and prices.
Upgrade to a larger version of cadvilla
You need a larger scope of performance and would therefore like to upgrade from your existing cadvilla version to a higher version of cadvilla? Here, you get a detailed overview of options and prices.