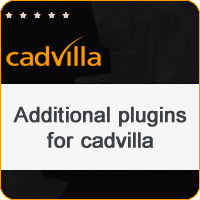 Activation via license key
2D-DXF/DWG Import – Plugin
€94,50 *
(Recommended regular price – no special offers available)
– All prices are incl. the statutory VAT.
Module for Importing 2D DXF and DWG Files
This additional module allows you to import 2D DXF and 2D DWG files, with options to select layers defined in the object and to modify the dimensions of the object.
The imported files can be inserted directly as 2D symbols in plans.
The data of the inserted 2D symbol can be used subsequently as planning details, and also as a basis for creating the 3D model.
To achieve this you only need to trace along the appropriate line symbols to replace them with walls, doors, windows etc.
This module is included in the following cadvilla versions
Features of 2D DXF and DWG Import
Once a file has been loaded, a preview appears in which you can select the contents to be imported. This is achieved by activating or deactivating the particular layer in the layer dialog.
After or during import you can modify the scale and the display of lines. The DXF/DWG file is first imported as an element, i.e. as a 2D symbol.
The DXF/DWG import function can be used to migrate architectural plans or to import 2D symbol catalogs.
An imported symbol used in a plan can be disassembled into its constituent elements directly in the plan, if necessary, and then be edited and stored in the 2D catalog with the help of standard functions.
Once floor plans have been transferred to cadvilla, the imported layers can be used as auxiliary lines, to which, for example, walls will snap.