3D Converter – Additional module for cadvilla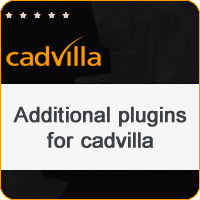 Activation via license key
3D Converter – Plugin
€69,90 *

(Recommended regular price, no special offers available)
– All prices are incl. the statutory VAT.
An additional powerful tool for converting objects
The 3D converter essentially provides functions to facilitate the use of 3D models of other software products. Furthermore, existing models can be loaded, edited and stored in other formats.
Therefore, it is aimed at all users who have 3D models, are able to create or obtain them, and for users who wish to use the cadvilla software for their work in addition to the other 3D visualization applications they normally use.
Formats currently supported by the 3D Converter are:
cadvilla object format
3DS object format (*.3ds)
Collada (*.dae)
Autodesk FBX (*.fbx)
Caligari trueSpace Objektdatei (*.cob, *.scn)
3D-DXF Objektdatei (*.dxf)
Amapi Objektdatei (*.a3d)
Stereolithography (*.stl)
VRML 1.0/2.0 (*.wrl, *.wrl97, *.vrml)
Lightwave Objektdatei (*.lw, *.lwo, *.lwm, *.lwb)
Wavefront Objektdatei (*.obj)
This module is included in the following cadvilla versions
With the help of the 3D converter you can convert 3D objects in other formats and edit them for the use in the object catalog or in other modules. The converter provides various functions for editing objects, which partially depend on the original format.
The basic functions available are amongst others:
Set sub-objects to visible or invisible
Edit material properties
Change textures and edit texture coordinates
Add or edit light sources
Scale objects
Store PDF files directly in the object and add internet links
This function is particularly useful for adding light sources to existing and new objects.
The software differentiates between the following:
Ambient light sources
Directional light sources
Spot lighting
Punctual lighting
Ambient light sources illuminate all areas of a scene equally and therefore increase the overall brightness. However, they do not create shadows.
Directional light sources illuminate a scene from only one direction and are 'internally' infinitely distant from the location of the observer/building. The sun is an example of a directional light source.
Punctual light sources have a defined position within a given object and are therefore the closest display of real lamps for interior decoration. The scene is illuminated in all directions around the light source.
As with punctual light sources, spots have a specific position within the given object and therefore also represent real lamps. However, in this case the light does not emanate in all directions as it is the case with a punctual light source, but instead in a light cone with a beam angle and aperture angle.
3D objects can consist of several sub-objects which form an item. A kitchen unit, for example, could consist of a cabinet, a draw and the draw-handle.
By deactivating the draw-handle and changing the draw to invisible, a new object can be created and then saved. Alternatively, the existing draw-handle could be deactivated and replaced with a different one.
Therefore, the possibilities for creating new objects are almost unlimited.