IFC Export / BIM Export for cadvilla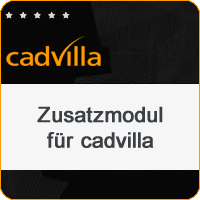 Aktivierung über Freischaltung
IFC Export / BIM Export – Plugin
59,95 € *
(The recommended list price is 99,95 € )
– All prices are incl. the statutory VAT.
Additional IFC (BIM) Export PlugIn
The cadvilla IFC export PlugIn, also called BIM interface, writes 3D data and building component properties of a cadvilla project as an IFC file for further usage in other software products supporting this data exchange standard.
These can be other design programs, but also complementary products for calculation, cost estimation etc..
In case of doubt, please ask your third party software provider whether their software supports IFC standard.
Both the geometries of the individual components and their properties are exported with our cadvilla BIM / IFC interface. As a result, you receive the entire cadvilla 3D building in your target software for further use, refinement, or analysis without post-processing.
Our current version transfers the following planning elements to a BIM interface (IFC file).
Walls, ceilings, floors, wall and ceiling cut-outs, beams, supports
Doors and windows (including window constructions), stairs
3D constructions, 3D objects from the objects catalog
The entire roof including dormers, wooden structure and skylights
Individual 3D surfaces created with our surface planner