Additional 3D objects for cadvilla – 3D +++ Collection 1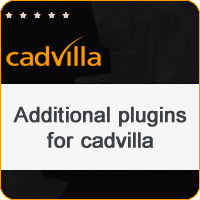 Delivery via download (~ 126 MB)
BACKUP-DVD – optionally in your cart

3D +++ Collection 1
€19,95 *

(The recommended list price is €39,95)

– All prices are incl. the statutory VAT.
– Additional 3D object collection for cadvilla
3D+++ Collection 1 includes
about 3000 objects
about 200 doors
about 1800 textures
This collection of 3D objects has been previously used in
ArCon [planTEK] and has now been converted by us for the usage in cadvilla.
The objects are divided into the top of the directory structure as shown in the categories below.
Object library 3D +++ Collection 1
The object library "3D+++ Collection 1" includes around 3000 objects from the following areas.








The object library "3D+++ Collection 1" includes around 200 doors from the following areas
Doors






Doors with side frames